To the Interior Elite Contracting community:
The evolving Coronavirus (COVID-19) situation is unsettling, altering
daily life and the operations of many businesses, schools and
workplaces. There is a great deal of uncertainty and we would like you
to know that the health and well-being of our clients and employees is
what matters most at Interior Elite Contracting.
Due to this uncertainty, we are not doing any more quotes at this time
but are more than happy to put your name on a list to contact you when
the local state of emergency is lifted and we have resumed normal operation.
Since the risk associated with the Coronavirus emerged, we have taken
action consistent with guidance from Health Canada, as well as
provincial and local authorities. We have reinforced hygiene protocols
and restricted non-essential travel for our employees. We've also taken
numerous precautions to keep our employees and clients safe, including
increased cleaning of tools and supplies.
Our priority is to support our employees and clients during this time.
We have instructed any employees that feel ill to remain home. In
return, we ask any clients who have anyone ill in their household, or
anyone who has traveled internationally recently, to inform us immediately. 
We will suspend work at no cost to our clients upon 
notification of either factor. 
We are committed to keeping you informed as updates become available and
will be in contact through email as new government protocols are
implemented.
Thank you for your ongoing support and understanding through these
uncertain times,
Bryan Young
President Interior Elite Contracting
There's a lot to consider before you embark on your new home build or home renovation project, from dimensions to material to timeline. However, the good news is that you don't need to tackle it alone. By working with Interior Elite Contracting, you can benefit from years worth of professional home builders and renovation experience that is catered towards you and your individual needs. Not only do our contractors come with valuable hands-on know-how as leading professionals in their field, but our customer service team is also always on-hand to ensure that you have a stress-free experience that makes your design dreams a reality.
Home Renovation Services in Kamloops​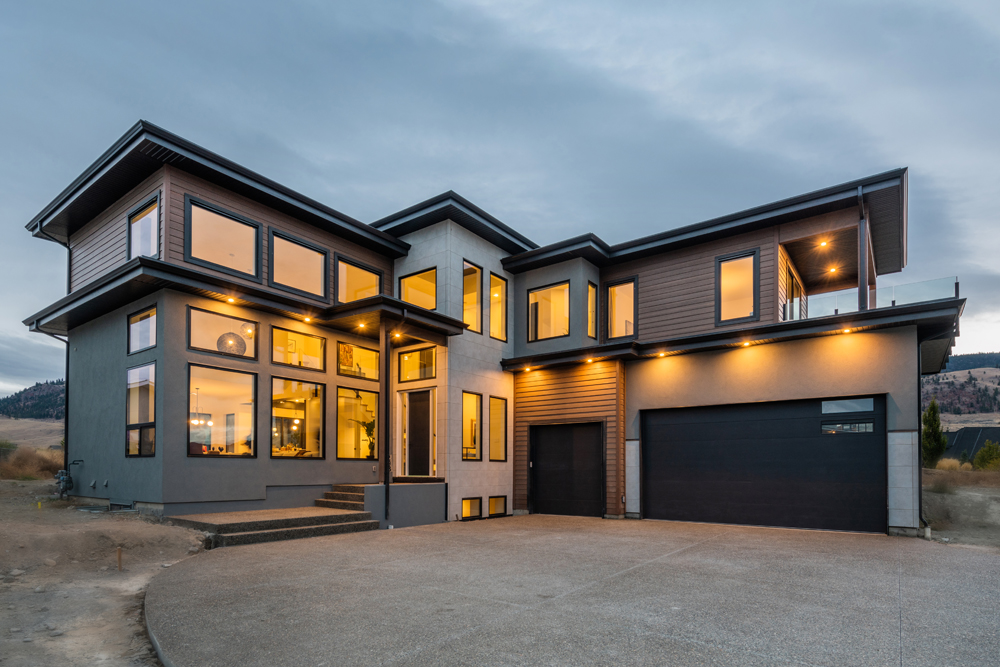 Have you been scouring the housing market, unable to find exactly what you and your family are after? Or, maybe you have been dreaming of building a home the way you want it for your entire life in Kamloops. No matter the origin of your vision, at Interior Elite Contracting we understand that building a custom home is a big deal — that's why we offer big services to match.
The custom home services at Interior Elite Contracting will see your home through from start to finish, going through four distinct phases: planning, foundation and framing, interior and exterior trim, and finishing. Through each stage, we oversee your home as if it were our own, paying great attention to details and tying up all loose ends.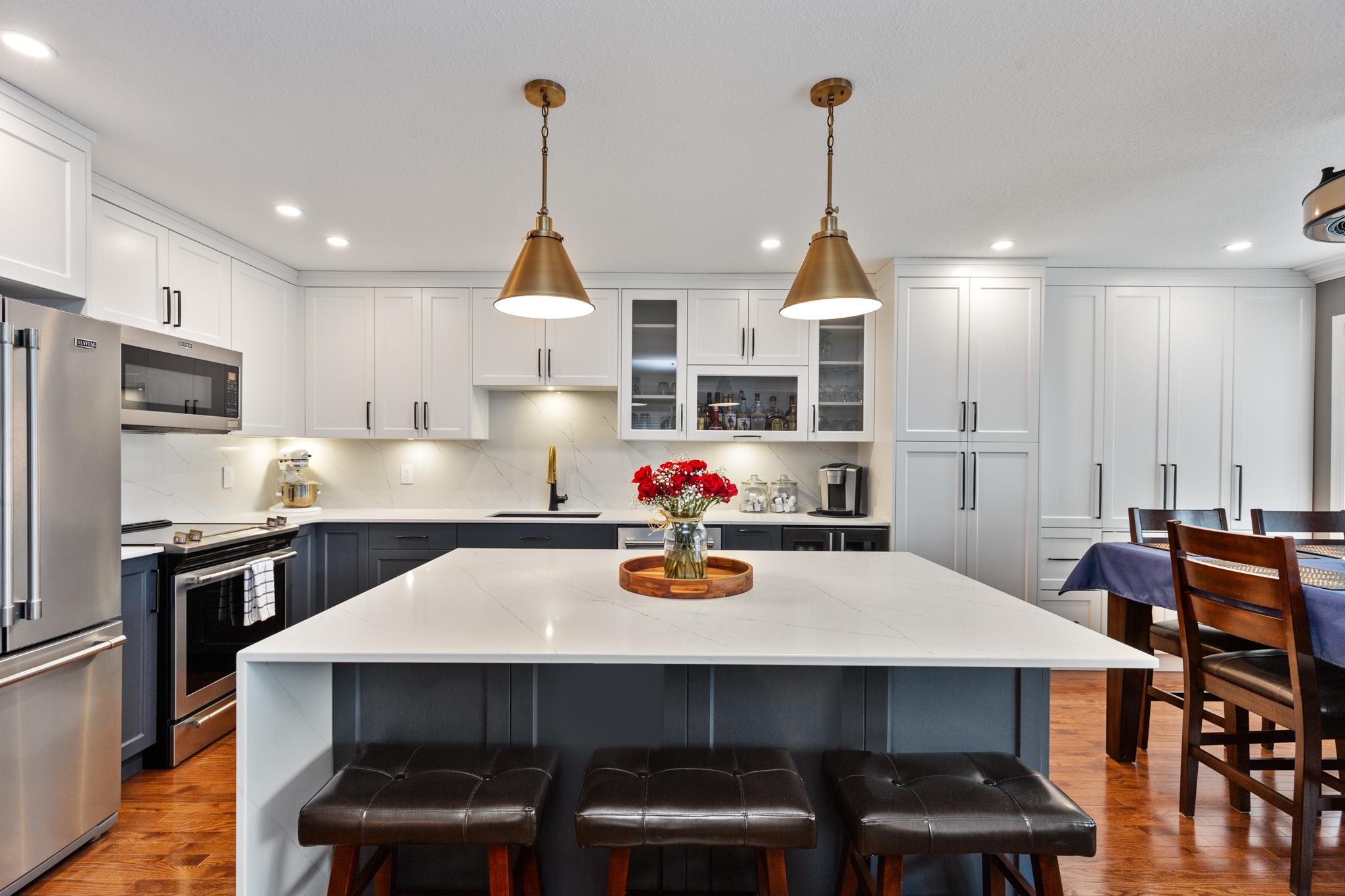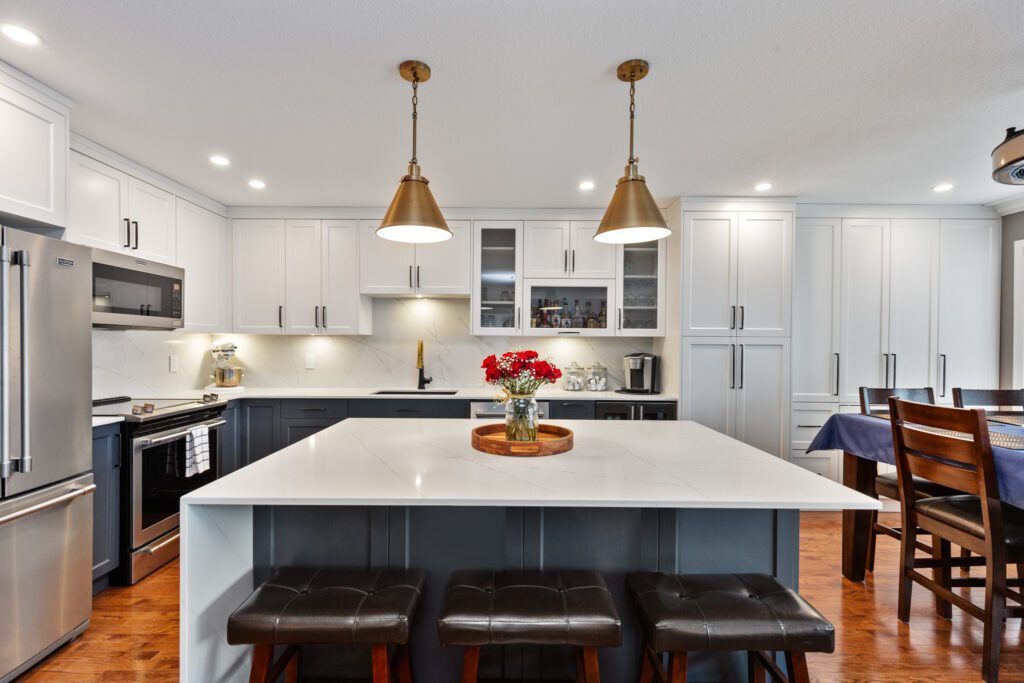 The kitchen is one of the most popular choices for home renovations. Not only does a kitchen renovation add undeniable value to your home, but it can also greatly improve your quality of life through subtle improvements.
Kitchen renovations are at the heart of what we do at Interior Elite Contracting. Although we have done countless kitchen projects, we are sure to approach each individual project like the unique undertaking that it is. When you trust Interior Elite Contracting with your custom kitchen renovation, you are putting your hands on professional designers and contractors who can help you re-imagine your family's kitchen in a way that saves you space, time, and money.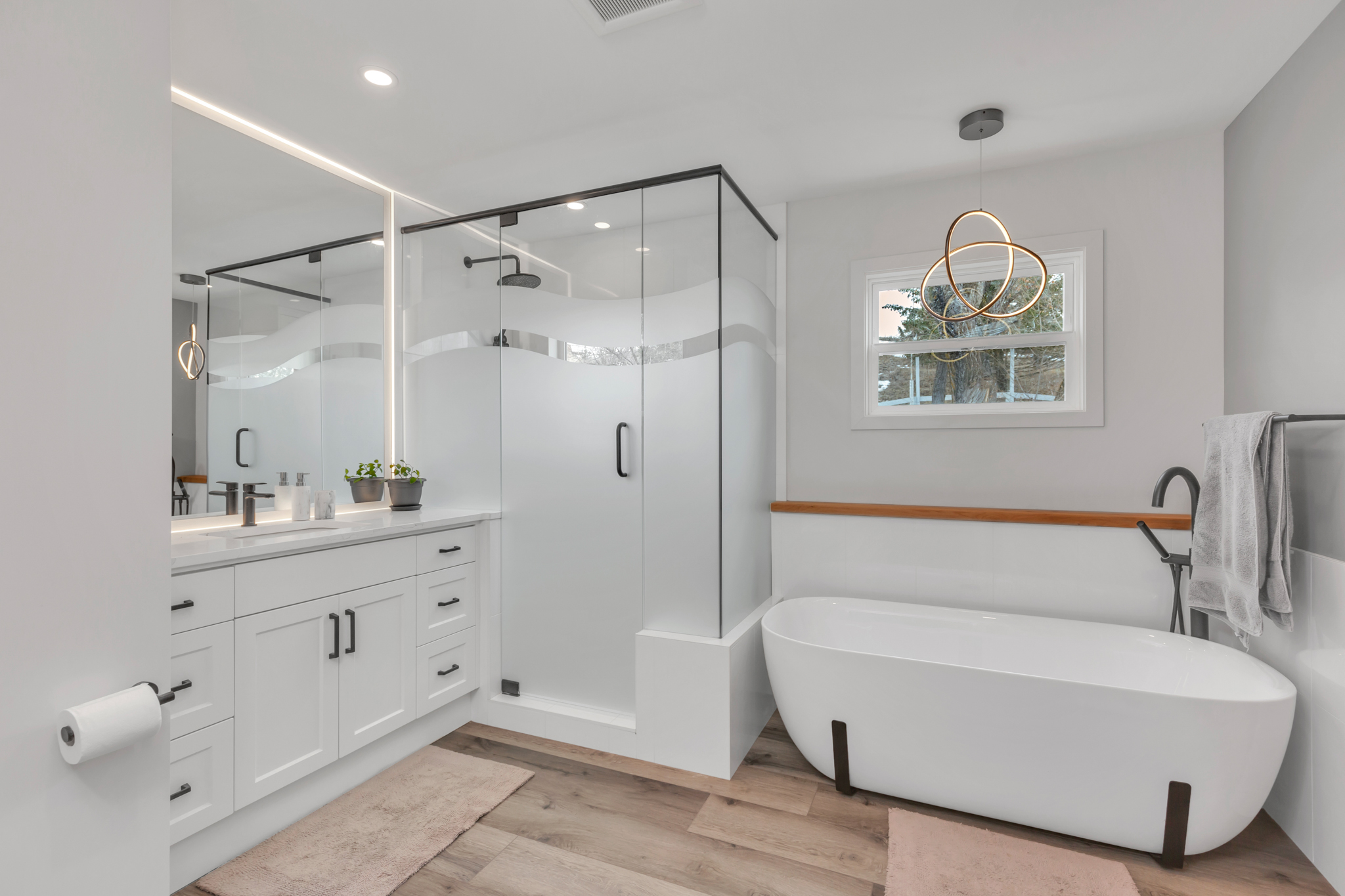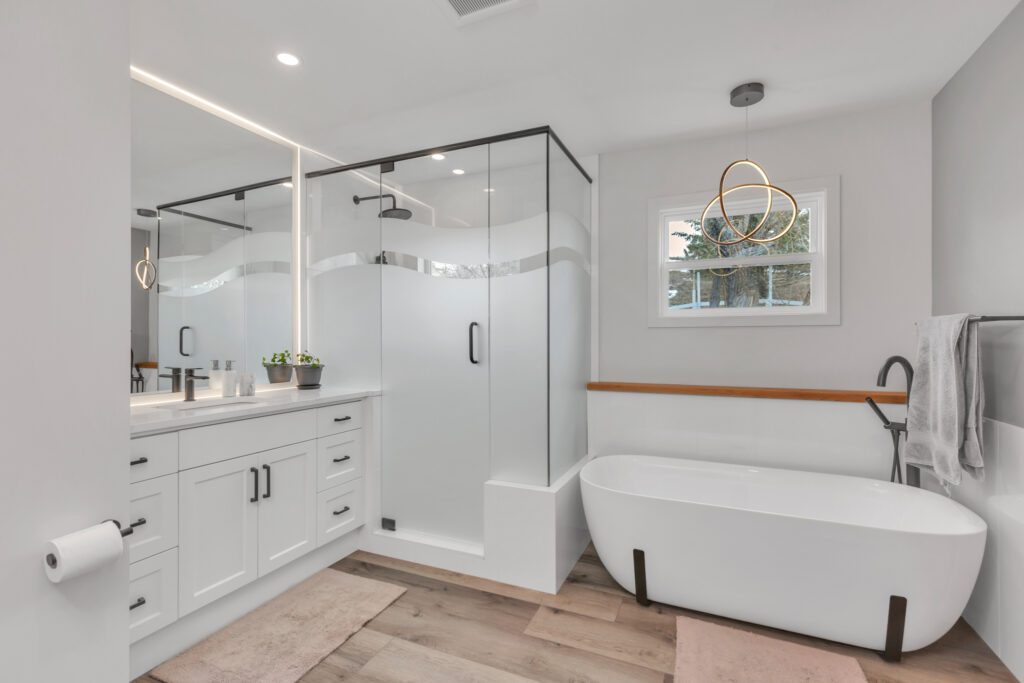 There are few rooms that offer as much importance as the bathroom, so it's no wonder that they are one of the most common rooms to renovate. However, it can be hard to conceive of a bathroom that fits both form and function by yourself.
The home renovation contractors at Interior Elite Contracting can help you envision a bathroom that not only works for your needs but also brightens your life through its flawless design. We believe that our bathrooms should be a refuge, which is why we rely on high-quality products and tested and true expertise for every bathroom renovation that we do. Bathroom renovations are one of the most popular services we offer at Interior Elite Contracting, so you can trust that you are putting your home in the hands of experienced renovation contactors.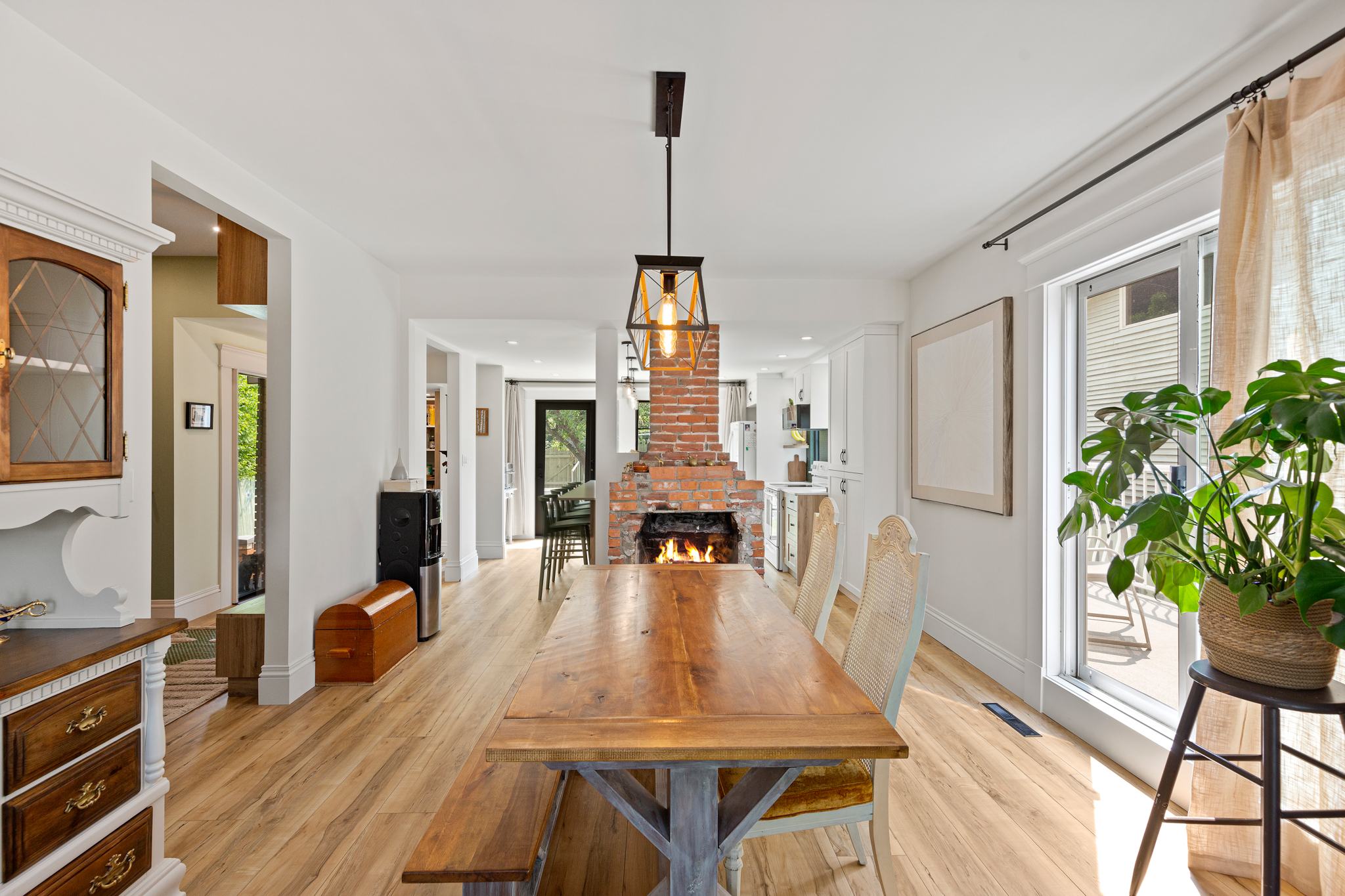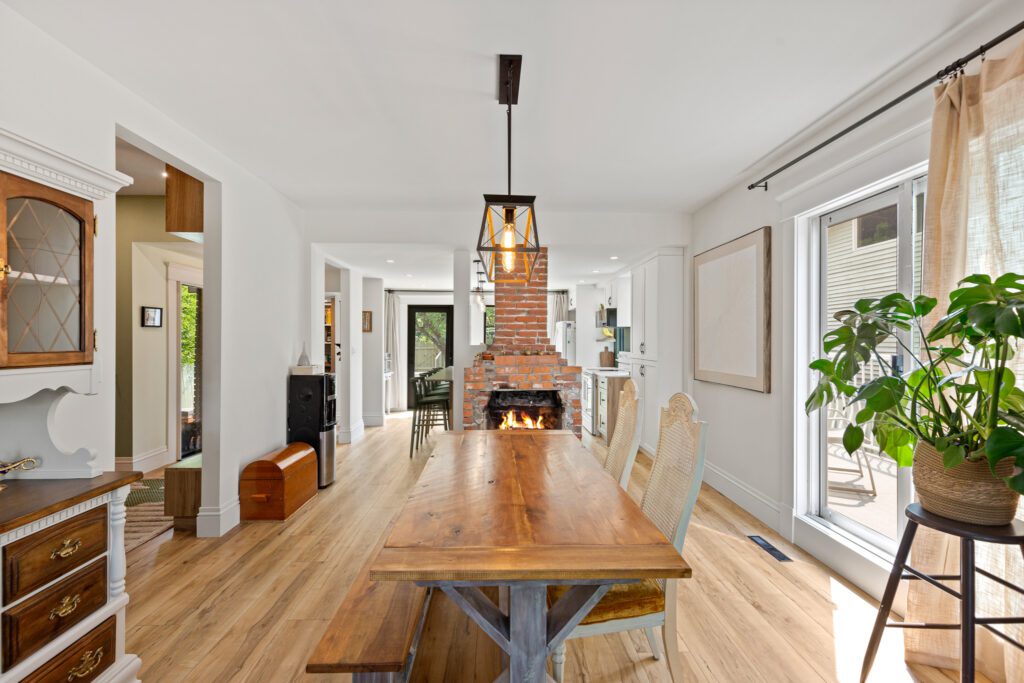 Sometimes, our goal is to not just to transform the appearance of a simple room or two — instead, we want to renovate the entire house! There is no project too large for our Kamloops renovation contractors. Whether you are looking to change the appearance of a home you have grown out of, or are planning to buy a fixer-upper and give it your touch, we can help.
Renovating a home is a huge project, but we will help break it down and make it manageable in a way that works for you and your family. Home renovation projects take multiple steps, but we can provide unique professionals who bring their own expertise to every section of the home renovation.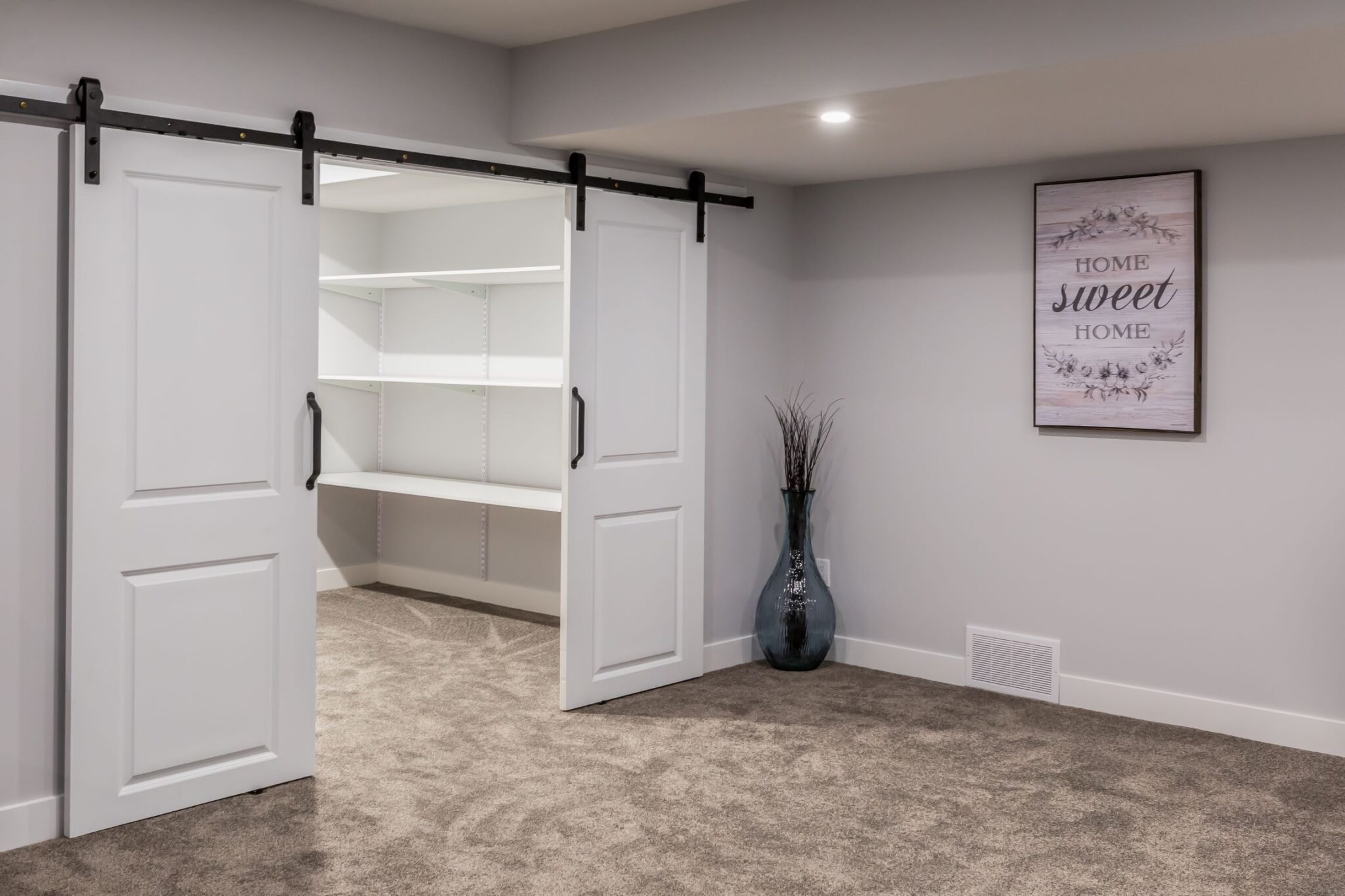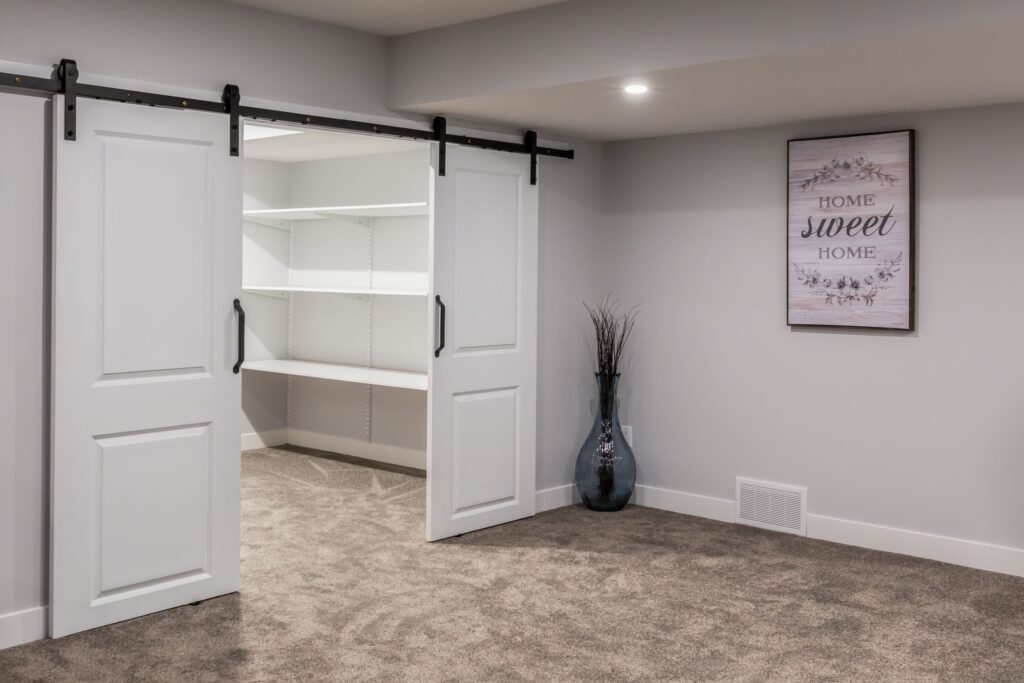 The basement can be an important gathering place for households, but many individuals who have unfinished basements are missing out on their full potential. If you are not making the most out of your house's square footage, then you can unlock your home's potential by entrusting the help of the basement renovation services at Interior Elite Contracting.
Our basement renovation services are dynamic to fit your needs, whether you are looking to change the appearance of your basement completely or even add a suite for rental income. Our professionals come with in-depth knowledge of local building code and requirements, so you don't have to worry about any boxes being left unchecked.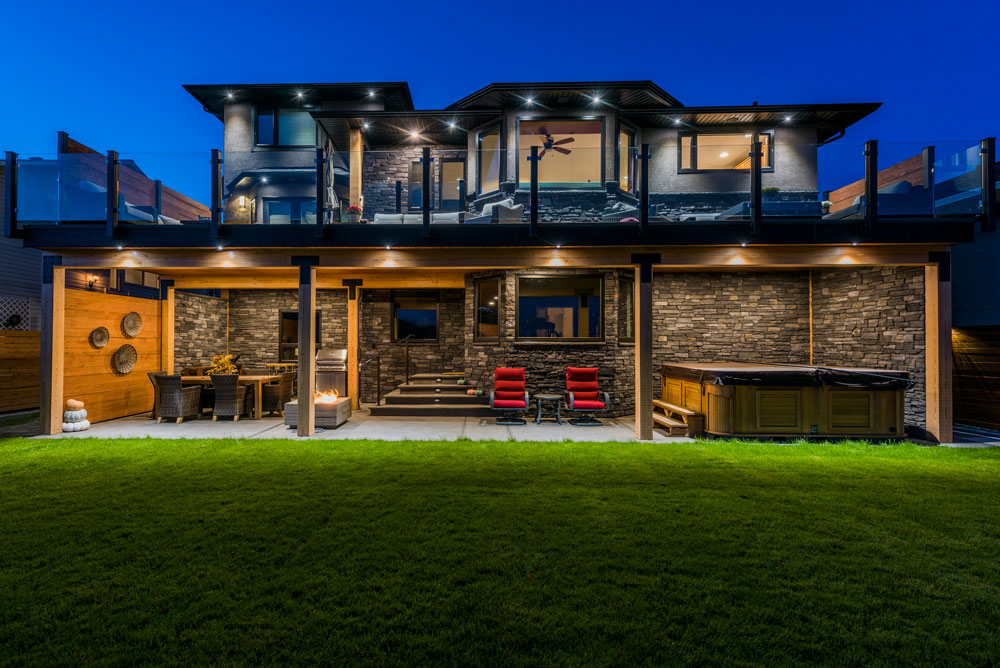 The way your home looks from the outside is integral to its very identity. If you are unhappy with the way your home looks, or want to make small changes to your home's exterior appearance, then you've come to the right place.
Our renovation experts handle outdoor renovations just as seriously as our indoor renovations. Not only can improving upon the curb appeal help you to feel more at home in your residence, but it can also go a long way in helping re-sell your home, as curb appeal is one of the top things that many homebuyers look for. Exterior renovations can take the shape of doors, windows, siding, eavestroughs, or other various touch-ups.
Customer Service and Quality Work
Interior Elite Contracting was established in 2014 by Bryan Young, a Red Seal carpenter with over 10 years experience in the home building industry. Elite was born through Bryan's desire to make customer service a top priority and his passion for making sure the job gets done right the first time! Elite contracting is a leader in custom home building, product quality and strives to make every project a stress-free experience that leaves customers with results they are proud to show off. Call us today to see how Elite can take your construction dreams and turn them into a reality.

Renovation
Interior Elite Contracting Ltd. can complete all your renovation needs at a competitive rate.

Custom Build
Interior Elite Contracting Ltd. will make sure custom builds are perfect from start to finish.

Maintenance
Interior Elite Contracting Ltd. provides general maintenance on jobs requiring weekly attention.

Services
Interior Elite Contracting Ltd. provide many services New Home Builds, Kitchen Renovations, etc...
Interior Elite Contracting was established in 2014 by Bryan Young, a Red Seal carpenter with over 10 years experience in the home building industry. Elite was born through Bryan's desire to make customer service a top priority and his passion for making sure the job gets done right the first time! Elite contracting is a leader in custom home building, product quality and strives to make every project a stress-free experience that leaves customers with results they are proud to show off. Call us today to see how Elite can take your construction dreams and turn them into a reality.

Honesty
We are honest with our clients, provide realistic quotes and budgets, and strive to bring their agreed upon vision to life.

Communication
We excel in communication with our clients, staff, suppliers and subcontractors to provide the smoothest building experience possible.

Teamwork
We believe in working as a team, from our project managers and designers through to our trades and staff, creating a seamless client experience from start to finish.

Organization
We strive to have our projects take the least amount of time possible while delivering superior results through product selection and scheduling systems.

Integrity
Our final bills match the agreed upon quotes; unforeseen work and change orders are communicated and agreed upon before the work is completed.
At Interior Elite Contracting, we pride ourselves on our integrity and communication to our customers, subtrades and staff. We quote each job with realistic budgets and realistic timelines. We believe your final bill should reflect your original quote while still providing great customer service through the entire construction process.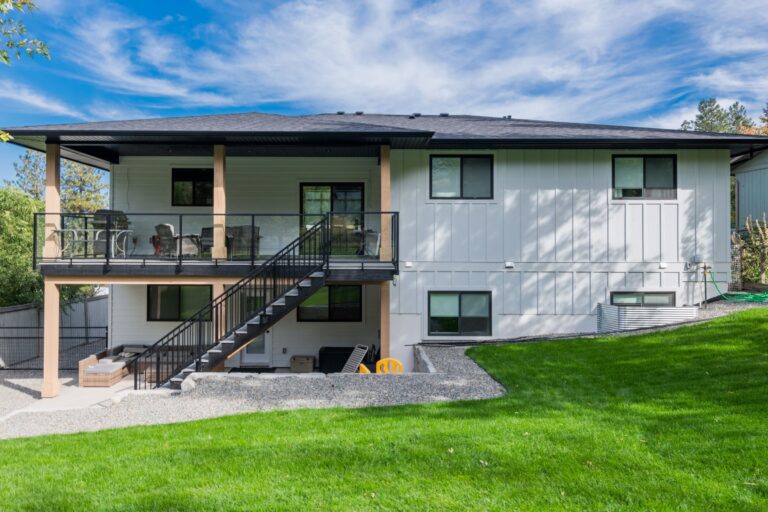 It's not easy to keep our homes maintained to our full glory! That's why, in addition to our renovation and building services, Interior Elite Contracting also proudly offers custom home maintenance services. By partaking in basic maintenance on a regular basis, you can help protect your investment for years to come and ensure that your home is working to the height of their ability.
Our Kamloops home builder professionals know how to look after a home improvement project, so you don't need to worry whether or not your home is being properly monitored. We can work out a schedule that works for you and your home in Kamloops, which helps bring you peace-of-mind as well as a home that is well looked-after.
Bryan completed an unfinished bathroom in my new home, installing fixtures, electrical, and flooring. He was great to deal with, very personable. His work ethic is high, all the work was completed on time and on budget. It looks great too. When I had an issue with the septic pump a couple weeks later (which was not due to his work), he was there very quickly to help me resolve the problem.
Lisa
Bathroom Completion, Kamloops
I assisted my daughter to hire a contractor, found Interior Elite on this site. He was very helpful and knowledgeable on what we needed. Quick to get it set up, implemented and the job done on time. Found him trustworthy and honest. Thanks Bryan for my bathroom in my daughters home.
Lyn
Bathroom Completion Vernon
This was a small job but a complicated one. Bryan, brainstormed a solution and it was a success. He works very fast and efficiently, no dawdling around. I felt like I got my moneys worth. I would highly recommend him to anyone and will keep his business card for possible future jobs.
Gloria
Carpentry Kamloops
In one word this company is amazing ! We purchased our home this past winter, which has a large beautiful lot for our dogs to explore yet had no fence! I have been desperately waiting to have a fence built so they could go outside without supervision and be safe.
CATHY
LARGE CEDAR PANEL FENCE
Interior Elite Contracting has done over a dozen jobs for me. Each one they have went beyond what is expected and maintained a professional attitude throughout. Would recommend to anyone looking to renovate or start a new construction project.
DAVID
WINDOW & DOOR INSTALLS
My experience with Elite Contracting was truly great. Bryan and his team of professionals are detail oriented and polite. The communication with the owner was prompt and clear. I would highly reccomend this company, they were so fantastic to deal with.
ANGELA
BASEMENT
From the beginning we had a good feeling about Elite contracting.Bryan was very professional and came to look at the job fairly quickly.He also got back to us with a detailed quote fairly soon.From start to finish it went well and his crew were top notch and did a great job.Would for sure get Elite again for any future renovations.
BETTY
NEW POWDER ROOM, LAUNDRY & LINEN CLOSET
Very happy with all the work done exactly like was planned on the quote. Not only did Byran respond with an assessment of the job needed to be completed, he called and returned to clarify what needed to be done. He would answer all my questions and reassure myself of any questions I had along the way. Would have him again and highly recommend him to anyone.
MARYLEE
SIDEWALK REMOVAL, INSTALLATION BIG O, FOUNDATION MINOR REPAIRS
Bryan's crew were knowledgeable, fast, friendly, hardworking and produced very nice results. I would recommend this company for your renos.
JOANNE
BASEBOARDS & CASINGS - FINISHING WORK
Bryan is awesome to work with. Very knowledgeable and listens to your needs. Right from the first meeting we knew we had a good feeling. Always available for questions by text or phone. His crew are great. Pleasant, courteous and friendly. We are thrilled with our new deck and would recommend Elite contractors to anyone and will definitely hire them again.
CAROL
NEW BACK DECK WITH COVER
Professional, respectful and quick. From the first meeting to the final walk through our experience with Bryan and his crew has been nothing but positive.
PAT
WINDOW REPLACEMENT
I recently sold my place and their work got me a price that pretty much paid for their work. I am amazed at how good and how QUICKLY everything got done! Even with the little hiccups and add-ons we threw in. I'm throwing in a few pics but they really don't do it justice.
BRUCE
BATHROOM LAUNDRY ROOM RESERVATION
We were so pleased after the first project we brought them back for a second and a third project. Bryan is dedicated to getting it right...... quick to return phone calls and to address your concerns..... refreshing honesty and integrity.
ALAN
BASEMENT RENO, WINDOW REPLACEMENT & MISCELLANEOUS
Our one and only bathroom was in desperate need of a complete renovation. Having never experienced a significant renovation job before we dreaded what it would entail. Bryan was fantastic in walking us through what to expect and where surprises may arise for us since our home is older.
MAR
BATHROOM RENOVATION
Bryan, his crew, & his sub contractors did a great job with our lower level renovations. These included new flooring, painting walls & ceilings, new baseboards, stabilizing floors & stairs, eliminating squeaks, as well as gutting & completely redoing a bathroom. We will be returning to Bryan for further projects in the future & recommend him to anyone wanting great quality work & workmanship.
NAOMI
DOWNSTAIRS RENOVATION
Can't say enough good things about this company. From the start Bryan was professional, accountable and the workmanship was top notch. Bryan made time for the few minor repairs I needed done, this alone, in my experience is not something a lot of contractors will bother with.
SUSIE
REPAIRED PATIO DOOR, INSPECTED & SEALED SKYLIGHTS
Absolutely love our new deck roof. Needed to replace our deck roof after it collapsed due to snow load this past winter. The work done was as first rate as the materials supplied. These people know their stuff and are very friendly and professional. It was a long day for them, big project 58 foot deck that needed to be covered, they got the roof system installed without a hitch. Great job guys, thank you so much!
JOE & KAREN
INSTALL DECK CANOPY
We took a chance on hiring Bryan to complete our bathroom renovation as we did not know any good qualified renovation contractors in Kamloops. We depended entirely on the reviews of his work that were listed on this site. We were not disappointed. His crew completed top quality work and were very efficient. Bryan scheduled everything to ensure that we would have our renovation completed quickly without much inconvenience to us.
GENE
BATHROOM RENOVATION
The quality of work was excellent. Elite Contracting paid attention to detail, showed pride of workmanship and completed the work on time and budget.
DAVID
WINDOW INSTALLATION
Another job and another great experience. Bryan is decent and honest and gets the job done. My floor is secure. I can't tell you how much I appreciate that he communicates with his customer. Will happily hire him again and again.
SIOBHAN
FIXED BEAM
Bryan and his team completed 2 separate projects for us over 45 days. Bryan was quick to respond to our initial attempts to contact him and he was prepared to start as quickly as we wanted him to. He provided tremendous insight into the nuances of our dual projects, negotiated a fair price, delivered beyond expectations and was quick to resolve any small issues that arose (as they always do).
JOHN
GENERAL CONTRACTING SERVICES
Our situation was a little unique in that we had a contractor come in and do a terrible job installing our windows, and Bryan was hired to come and re-install everything. Bryan and his crew did a fantastic job, they were professional and courteous and were very respectful of our house and our situation (my wife is on mat leave with our second). I would definitely recommend Bryan to anyone who needs a renovation rescue.
JOSH
WINDOW INSTALLATION
Bryan was very thorough and very professional. My new front door looks amazing but the part I loved the most? He actually communicated with me. I knew when he was arriving (he had sent a text the night before). He also cleaned up the worksite beautifully. I would recommend him in a heartbeat.
SIOBHAN
INSTALLED FRONT DOOR
We contacted Bryan based on all of the positive reviews on this website and he definitely delivered. Our bathroom reno was not particularly simple as our house is 46 years old, nothing was square, and due to budgetary constraints we wanted to do as much as of the work as we comfortably could. We were a bit rushed and hadn't thought every detail through but Bryan was very accommodating and gave us good insights when we needed them.
JASON
BATHROOM RENOVATION
Excellent job by Bryan and his crew replacing our rotten wooden deck stairs. He was professional, worked efficiently, remained on budget and produced an excellent product. He also pays attention to the small details that make a lasting impression such as re-installing our infant safety gate at the top of the stairs when this was not an expectation of the job. He has my recommendation.
QUINN
WOODEN DECK STAIR REPLACEMENT
We were very happy with the finished product of our reno. We had a budget that we needed to be mindful of and of course a couple of things took place that took us over that. Bryan was very fair, helpful and open to negotiation and ideas when it came to dealing with this.We always got quality work and products even when watching the budget became a factor.
LINDA
RENOVATION ON THREE BATHROOMS
Bryan provided us with excellent service! He was quick to respond to our initial contact. He arranged a first meeting quickly and was professional and knowledgeable. He took the time to look at the space and offer smart suggestions. He was upfront and honest. He kept us up to date and kept the chaos to a minimum. The work was well done and the clean up was easily arranged and well taken care of! I would definitely recommend Byan's services! Thanks Bryan!! 🙂
MICHELINE
SUITE RENOVATIONS - PAINTING, REPAIRS, BUILDING WALLS, ETC.
On time and on budget! Brian and his team exceed our expectations. Our sundeck renovation was not a small undertaking. From demo, construction of the new deck and clean up we could not have asked for more. I still can not believe that from the drawing rendering our dream really come true. I will highly recommend Elite Contracting to all of my friends and co-workers. We can't wait to start on our bathroom renovation!! Thanks again Brian, see you soon.
JACK
SUNDECK RENOVATION
Bryan and his crew were great. Always willing to go over areas with us, making time to listen, explain and gave us the time to figure out what was best for us. Called immediatley when a new issue came up and/or making sure we were good with what needs to be done while keeping in mind the cost, since we were on a tight budget. Made sure we knew all our options, kept us informed and up to date on each days work.
SHERRI
BATHROOM RENOVATION
Bryan provided a great deal of competence and enthusiasm. He was always on site to manage the project and delivered everything he said he would. He will be back this summer to complete phase two of our renovations and we feel very confident it will turn out as we imagine it. I would recommend Elite Contracting to anybody!!
KENNETH
REMODELED TWO BATHROOMS, COMBINED TWO BEDROOMS INTO ONE WITH AN ENSUITE
All work done as negotiated. Very reasonable time frame. The work on my suite looks great. Bryan will get the call for my next project. Highly recommended.
RYAN
BASEMENT SUITE RENOVATION
From the moment Bryan came to first introduce himself to us for a quote to the end of the renovation, he without a doubt went above and over what was asked of him to make sure the job was done right. He has great vision of what is required for work, and has an exceptional understanding of the industry to lead his team in getting the job done in a timely fashion. Until the next project 🙂
KRIS
INTERIOR RENOVATION
Bryan and his associate arrived on time and were very efficient in getting the job done! Very professional and did a good job. I would definitely use his services again in the future.
GUY
INSTALLED BARN DOOR
In the end the job was completed on time, including doing other additional unrelated work that we requested be done, and the final price was reasonable what we expected. We are extremely happy with the finished product and have received many compliments on the job from friends and family.
MIKE & ROXANNA
BATHROOM RENOVATION, BASEMENT REMODEL & PARTIAL KITCHEN REMODEL
Then with only 1 week to go, my "bargain priced carpenter" called to tell me he got hurt playing soccer and could not work anymore. When I made my desperate call to Bryan he said he had anticipated this would happen and got his people in and got everything done on time and done to perfection! I would also like to point out that Bryan was already busy AND he did not charge extra for the extra effort.
BRUCE
BATHROOM & FLOORING
From the time we called Bryan to speak with us about how we would like our basement completed to the last visit to make sure everything we identified was taken care of, Bryan provided the type of service that every homeowner would like to see on their home renovation. Bryan worked closely with my wife and I to identify how many bedrooms we wanted, the size of each room, where the closets would be, etc. from beginning to end.
NICK
BASEMENT RENOVATION
We hired Bryan to give us the "open concept" design in our kitchen. He was at our house the same day we phoned him to go over the plans and share ideas. We knew from that moment that we hired the right guy. He is an extremely dedicated, enthusiastic and polite man who takes pride in his work.
KELVIN
KITCHEN RENOVATION
Bryan did a fabulous job of managing the renovations in our bathrooms. He is very service oriented and when a couple small problems arose (which had nothing to do with him), he went above and beyond to make sure that we were taken care of. He is very personable and responded right away to questions we had or requests we made of him.
KELLIE
BATHROOM RENOVATIONS
Elite Contracting was very efficient and timely in renovating my front and back decks at my office location. Bryan from Elite was very professional and came in both on time and on budget.
DONNA
DECK RENOVATION
Bryan was great, very honest and trustworthy. It's so rare to meet honest people now. I don't even live in town anymore but he handled my basement flood renovation amazingly well and the place looks better than before the flood. I would recommend his services anytime. Quality work at honest prices.
KEVIN
BASEMENT RENOVATIONS
Bryan completed an unfinished bathroom in my new home, installing fixtures, electrical, and flooring. He was great to deal with, very personable. His work ethic is high, all the work was completed on time and on budget.
LISA
BATHROOM
This was a small job but a complicated one. Bryan, brainstormed a solution and it was a success. He works very fast and efficiently, no dawdling around. I felt like I got my moneys worth.
GLORIA
CARPENTRY
Bryan recently built and installed a custom railing in our house. The same day that I first contacted Bryan, he came to give us a quote and he recommended specific options to us that we were not aware of. On the day of installation, Bryan arrived promptly and worked hard all morning. He worked very efficiently and completed the job in less time than was expected.
CHERYL
CUSTOM WOODEN RAILING
We are fully licensed, insured, WCB covered and accept debit, Mastercard and Visa. We also provide free estimates and references upon request. All work will be completed by a journeyman carpenter at a very affordable rate. Please don't hesitate to call as no job is too big or small.
We would like to hear from you. Please send us a message by filling out the form below and we will get back with you shortly.